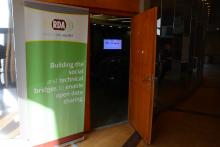 RDA BG Node organizes Workshop on Data Management on 24th of July 2020.
Draft program
 - Cases from Bulgaria, 
- participation in the RDA adoption week 15-19 June 2020 by members of RDA BG, 
- connections with European Open Science Cloud. 
Invited speaker is Dr. Andrey Tchorbanov, Immunologist, who will present the role of data in COVID-19 case
The workshop is foreseen to be digital!
You are all invited to  register for participation:
https://meet.google.com/dnh-nnio-znr