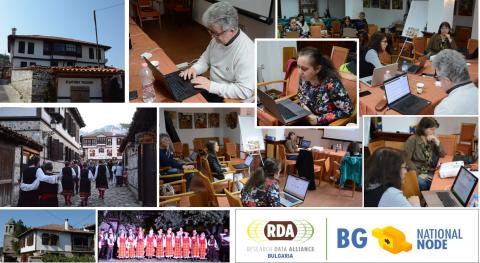 On 21st of September, the RDA team of the Bulgarian RDA node organized a hybrid seminar on the topic: Involving EOSC activities in the activities of the RDA nodes.
The event was held in Zlatograd, Bulgaria, in the premises of the Sevrieva house and in parallel it was web streamed via the ZOOM system. Approximately 35 researchers, representatives of research institutions and interested stakeholders took part in the event on the place and remotely.
First, the moderator of the seminar, Prof. Ana Proikova from Sofia University outlined the opportunities for researchers to become individual members of the RDA and to join working groups of the European Open Science Cloud (EOSC) and EOSC Association.
The Deputy Minister of Education Karina Angelieva joined the event from Brussels. She presented the priority policies at European and national level for the development of Open Science, the programs for promotion and modernization of universities, development of policies and policy instruments to encourage adoption of FAIR principles and open innovation in business context.
Prof. Maria Nisheva, deputy dean of the Faculty of Mathematics and Informatics at Sofia University, made the connections between the policies of Open Science and recently set policy document of the "Concept for development of Artificial Intelligence in Bulgaria until 2030".
Finally, Prof. Krasen Stefanov presented the opportunities for inclusion and participation of Sofia University in the European Open Science Association (EOSC Association). In the discussion part, assoc. prof. Eliza Stefanova, vice-rector of Sofia University, confirmed the strong commitment of the university to support RDA activities and to promote Open Science, Open Research Data sharing and Open Innovation.